Aversion as a Form of Attachment: Why Holding onto Anger is a Recipe for Getting Burned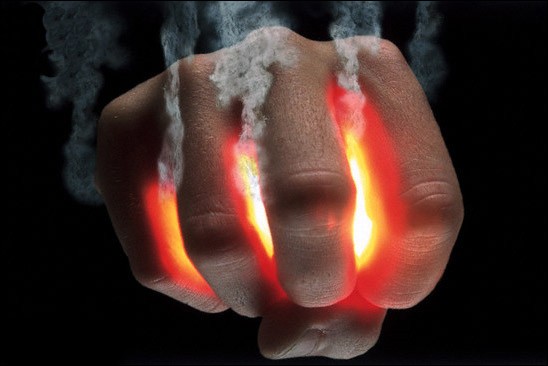 A popular meme has circulated in recent years that goes something like, "Holding onto anger is like picking up a hot stone with the intention of throwing it at someone; you're the one who ends up getting burned."  While the derivation of that quote is somewhat up for debate, the sentiments ring true: attachment is the source of suffering.
When I first began studying Buddhism, the idea of letting go of desire was revelatory.  Like most human beings, I struggled with attaching to my desires and projecting that sense of longing onto all things in my life.  Being conscious of that phenomenon was a big first step in my personal evolution.
I recently read Mindfulness for Beginners by Jon Kabat-Zinn (a really great read for anyone looking to dip their toe in Buddhism, mindfulness or both).  Of all the major pearls of wisdom Kabat-Zinn imparts, one in particular really hit me: Aversion is a form of Attachment.
Letting go of desire is difficult task to undertake.  It's only natural that we're going to want things: a nicer car, a different job, a different romantic partner.  Fighting that natural instinct isn't easy nor is it particularly fun at times, but what if we turn that same concept on its head?  What if we let go of the things we don't want?  That should be easy, right?  We don't want them anyways, so why not just give them up?
While it may not be quite that easy, it is all the more liberating to let go of things that bother you.  When something triggers you, can you challenge yourself to be conscious of your attachment to that which it contrasts?
In Buddhist philosophy, ignorance is the root of all suffering.  Ignorance not simply taken to mean a passive inabilty to understand reality but an active misinterpretation of the status of oneself and other objects–one's own mind, body or other people–willfully deluding yourself of your place in the world as you relate to other people and objects.
That ignorance stems from two equally poisonous sources: attachment and aversion.  When we only see things in the dualistic context of equipment (how they help or hurt us in achieving our personal, egotistical goals) we fail to recognize the true nature of things as they exist independent of any personally motivated context.
So the next time you make a judgement about someone or something, ask yourself, "is my judgement being clouded?"  More often than not, whatever or whomever you're thinking is so awful is not nearly as bad as you're thinking at that moment.  More often than not, your personal motivation and bias is making you think and see things that aren't true.
Cultivating a sense of mindfulness is the key to overcoming this challenge.  Improving your ability to recognize these thought patterns as they form is an immensely valuable skill, so that you can free yourself from the pattern of desire and aversion.  Letting go is such a great feeling.